Want to worry less? Become aware of your negative self-talk:  "whispered lies" such as, "Oh, this is just so awful."  "I can't handle this." "I need to fix (situation/person) right now." "I can't be happy until (situation/person) changes." "I'll never be able to do that." or "I wish I hadn't . . ."
Stressful thoughts like these scare us so much that we end up with life-threatening illnesses, or we find ourselves too preoccupied to give love and attention to our family or friends. Not a recipe for happiness!
How do we overcome our whispered lies so we can find peace, wisdom, and fulfilling relationships?
That's what Charita and I talked about in this interview series about my award-winning book, 50 Ways to Worry Less Now: Reject Negative Thinking to Find Peace, Clarity, And Connection.
Interviewer, Charita H. Cadenhead, Realtor, Author, Radio host, Entrepreneur (R.A.R.E.). http://renewrefreshreset.com/about/charita-cadenhead/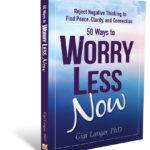 Gigi Langer holds a PhD in Psychological Studies in Education from Stanford University. She's a sought-after speaker and retreat leader who has helped thousands improve their lives at work and at home. Order her award-winning book, 50 Ways to Worry Less Now at Amazon or get 20% here off with promo code 20lessnow.