Over 30% of Americans struggle with worry and anxiety.
Are you one of them?
Take the "Worry QUIZ" to find out 
Read each statement, decide if it's true for you, record the corresponding number of points, and add up your Worry Quiz score.
1. When I tune into what I'm thinking, I am usually:
a) Remembering something about the past (+1)
b) Pondering something in the future (+1)
c) Focusing on what is going on right now (0)
2. I often find myself wishing things were different. (+1)
3. I wish I could take better care of my own needs (e.g., exercise, rest, nutrition, social support). (+1)
4. When I'm struggling with a situation in my life, I tell the story about it over and over. (+1)
5. I often clench my teeth or feel tension in my shoulders, stomach, or neck. (+1)
6. I meditate or sit still regularly. (0)
7. I wish I could worry less about:
a) My own health (+1)
b) My loved ones (+1)
c) The opinions of others about me (+1)
d) My finances (+1)
e) World events (+1)
f) My past mistakes (+1)
8. I often stop to savor my surroundings (music, a pet, nature, etc.). (0)
9. I am hesitating to pursue a dream I've had for a while. (+1)
10. I often put others' needs ahead of my own. (+1)
My Worry QUIZ SCORE:
11–14: I need to find a way to attain peace of mind and happiness.
7–10: I could use some new techniques to help me worry less.
0–6: I probably have strategies that already work well for me (or I might be in denial).
People who worry less have better physical health, lower risks of stroke or heart disease, and higher overall survival rates. They also have better emotional health, less depression, more harmonious relationships, and are more equipped to solve life's problems.
To reduce your worry and negative thinking, purchase my book Worry Less Now from Amazon, Nook, GooglePlay, Kobo, or i-books.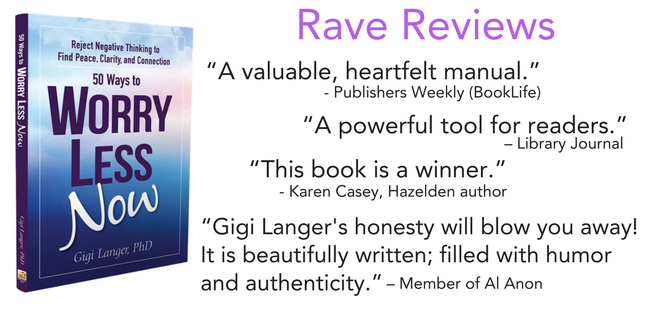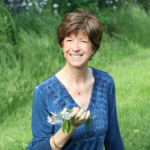 Gigi Langer holds a PhD in Psychological Studies in Education from Stanford University. She is a seasoned author and popular speaker who has helped thousands of people improve their lives at home and work. Gigi hasn't had a drug or drink for over 30 years, although she does occasionally overindulge in Ghirardelli chocolate and historical novels. She lives happily in Michigan with her husband, Peter and her cat, Murphy.