---
Hi, I'm Gigi . . .
I'm a presenter, retreat leader, and author of the award-winning book, 50 Ways to Worry Less Now: Reject Negative Thinking to Find Peace, Clarity, and Connection. I'm here to share a wide variety of techniques to overcome your stress, worry, and anxiety.  
My goal is to help you become calm and wise, even during your most troubling times. Rather than responding out of impatience, fear, judging, gossip, or self-sabotage,  you'll learn to connect with your own center of loving power so you can enjoy fulfilling relationships, creativity, vibrant health, and success.
I'm here to help you . . .
In my blog and book, you'll find over 50 techniques I've used to overcome
chronic worry and stress,
perfectionism,
dysfunctional relationships,
alcoholism/addiction,
chronic pain, and
 concern about loved ones.
I'm certain you'll find something here that will bring you clarity, happiness, and harmonious relationships.      — With  ❤ from me to you,   Gigi
My story . . .
Thirty years ago, I used alcohol, romance, and professional accomplishments to soothe my frayed nerves. After I quit drinking, I found I had a serious thinking problem! Over time, I discovered effective tools from therapy, recovery pro­grams, scientific research, and a variety of philosophical and spiritual teachings to find peace, wisdom, and hope–no matter what is going on in my life!
Formerly crowned the "Queen of Worry," I've resigned my post and now live happily with my wonderful husband, Peter, and my cat, Murphy. Although I haven't had a drug or drink for over 30 years, I do occasionally overindulge in Ghirardelli chocolate and historical novels. 
I hold a PhD in Psychological Studies in Education and an MA in Psychology, both from Stanford University. As a professor at Eastern Michigan University, I won several awards for teaching, and (as Georgea M. Langer) co-authored books and articles for educators.
50 Ways to Worry Less Now:

Reject Negative Thinking to Find Peace, Clarity, and Connection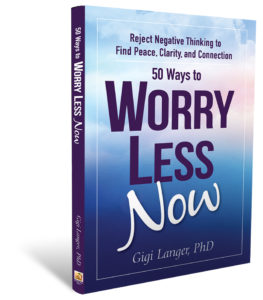 MANAGE  life's most difficult challenges with calm wisdom
CREATE relationships that blossom and thrive
FULFILL your dreams without limitations
SERVE others in their personal growth
Highly Recommended by Library Journal, Midwest Book Review, Publishers Weekly (BookLife), and bestselling Hazelden recovery author, Karen Casey.
Links for Barnes and Noble, Amazon, and e-books

Amazon 5-Star Rating 

Reviews and Praise 
"Langer speaks from hard-won experience in her valuable, heartfelt manual on curbing excessive worrying. Her frank and empathetic tone will comfort readers, as will the practical steps she teaches." BookLife by Publishers Weekly
"Even though I have been in recovery for more than four decades, and didn't think another self-help book would make it to my treasured list, I was wrong. This book is a winner."  Karen Casey, best-selling  author of Each Day a New Beginning (Hazelden)