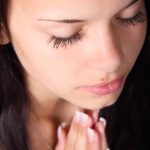 Before I got sober, I didn't pray, unless you count uttering in desperation, "Help me!"  Even though I I didn't know what it meant, I memorized the Lord's prayer, just to fit in at my best friend's church. I had no idea that connecting regularly with a Higher Power could solve my troubles and fears.
Six Reasons to Pray
These days, I pray a lot. Here's why it helps, according to my favorite author, Karen Casey.
"(1) Prayer promises relief when we are anxious.
(2) Prayer connects us with our Higher Power when we feel isolated and full of fear.
(3) Prayer frees our minds from the obsession to plan other people's lives.
(4) Prayer helps us take action when we feel compelled to change the circumstances of our lives.
(5) Prayer becomes a wonderful resource to draw on when living through our painful moments.
(6) And prayer gives us the willingness to accept God's solution for every problem that plagues  us." (from Karen Casey's A Life of My Own)
My friends say that praying is asking, and meditation is listening to the God of our understanding. So, in addition to prayer, I meditate to gain all the wise direction I can get! (I also attend meetings, do service work, and read inspiring spiritual texts to keep myself balanced and stress-free).
Prayer and Meditation
In the past few years, I've stepped up my prayer and meditation because of one of the scariest challenges of my life: writing and publishing a very revealing self-help book. I often say, "God made me do it" because I found myself running up the stairs with enthusiasm to write. And I found just the right people to help me publish it.
Last February, I released the paperback and e-book of 50 Ways to Worry Less Now: Reject Negative Thinking to Find Peace, Clarity, and Connection. Recently, several people have requested an audio version of the book. As soon as I decided to record it, I was filled with fear and resistance. It just seemed like too  much work!
The Prayer of Jabez
That's when I remembered The Prayer of Jabez, a small book my sister-in-law sent me several years ago. The prayer comes from this Bible verse: "Jabez cried out to the God of Israel, saying, 'Oh that you would bless me indeed and enlarge my territory! Let your hand be with me, and keep me from the evil one.' And God granted his request." (1 Chronicles 4:10, NIV)
I've adapted it to the following four steps. (If you use the prayer, feel free to substitute your own word for "God.")
1) God's blessings. I ask for God's blessings and thank Him for the good things I already have.
2) Expansion of territory. I ask that God enlarge the number of people who benefit from my words and actions.
3) The presence of God's hand. I ask for God's power and guidance to serve the many new people reading and listening to my words.
4) Protection from harm. I ask God to protect me from negative thinking and selfish motives–that I remain open to do His will, not my own.
It's just the right prayer to overcome my fears about making an audio book. I've read several articles on how to do this, and it requires quite a bit of equipment, patience, and time. But, I know it will do the most good if I record it in my own voice. So, here we go. . . Let's call in all that power and courage!
A Request for Your Good Thoughts and Prayer
I plan to start on December 1st. Please wish me luck in this endeavor, as I continue to pray for blessings, increased readership, power to serve my new readers, and protection from fear and doubt. Thanks to all of you for your support, and thank You, God, for this adventure!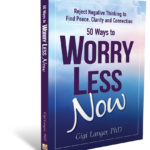 Gigi Langer is the author of 50 Ways to Worry Less Now: Reject Negative Thinking to Find Peace, Clarity, and Connection. 5 Stars on Amazon and winner of the Indie Excellence Award. Get 20% off here with promo code 20lessnow. (No discount at Amazon or e-books)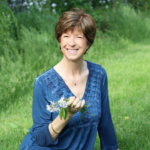 Gigi had a long career teaching and writing in education. She holds a PhD from Stanford University in Psychological Studies in Education, and has been clean and sober for 32 years.