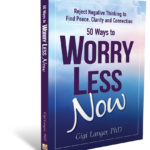 For six years, I wrote and revised Worry Less Now!  It contains everything I know about overcoming worry and negative thinking. Very practical; 50 specific tools; lots of stories.
Finally, It's time to get it out there!
I created my own publishing company, Possum Hill Press, and subcontracted to talented folks who came to me through friends and relatives: Editor, typographer, proofreader, cover designer, photographer, and printing company. And, let's not forget the social media marketing pro!
This last part's the hardest for me. I'm not a fan of promoting myself, but I AM a fan of this book! So, here I go, connecting with you!
The e-book and the print version will be available for pre-order in January  2018.
BUT:  Next week I'll send the print book free to 20 Advance Readers who agree to review or promote it.  Click here if you're interested:  https://gigilanger.com/contact-me/
My early readers love Worry Less Now!  Here's what they're saying:
 "I've become reluctant to recommend personal growth books to my clients because so few seem to focus on taking action. Worry Less Now is different. Rather than setting herself up as the authority, it's clear that she works the strategies and tools as part of her ongoing growth.  She comes across as warm, humorous, approachable, accepting, credible, and sincerely invested in the personal growth of her readers." (Christine McCully, LMC, MA.)
 "Your personal story and the examples of the strategies helping peoples' lives show that the techniques really work. I learned so much." (Advance Reader)
Thirty years ago, I was a prisoner of worry who used alcohol, romance, and professional accomplishments to sooth my frayed nerves. But, those ploys only escalated my fears and doubts. Then I decided to stop the self-destruction and learn to be happy.
After 31-years studying and applying tools from recovery pro­grams, cognitive therapy, energy work, scientific literature, and a variety of spiritual teachings, I've figured out how to calm my own and many others' anxieties and fears.
I know you too can overcome your own worries because it only takes one decision: To apply new ways of working with your negative thoughts and feelings. This book teaches you how.
I've boiled it all down to four life strategies and fifty practical tools to dissolve the "whispered lies" of negative thinking. The book is chock- full of compelling stories and easy-to-use ideas that empower you to manage your troubling times with calm wisdom, fulfill your dreams, and create loving relationships.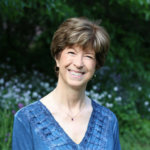 Gigi Langer, PhD, is a former "queen of worry." She's also an award-winning educator, speaker, and author. Her new book, Worry Less Now.   can be ordered in January 2018. It contains 50 powerful tips to defeat negative thinking, find inner peace, and be happy.
---