Harriet Hunter and I met online through a FaceBook group for writers. We hit it off immediately and began to exchange e-mails and encourage one another.
You see, we were each about to launch our books. And we couldn't stand the excitement! I offered to do an advance review of "Miracles of Recovery," and my glowing words now appear on the back cover!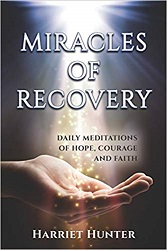 This book is a wonderful gift for anyone in recovery.
I read it every day.
If you'd like a sample, listen to the recording below as Harriet Hunter reads "The Gift of Faith."
I know you'll love her infectious enthusiasm for life.
To get more wonderful blogs and daily recordings, go to HarrietHunter.org and sign up!
One day, Harriet emailed me about a book fair she was attending about three hours from me. We decided to share a table to showcase our books. We had never met face-to-face until that weekend, and we became fast friends immediately!
Get to know Harriet through her wonderful website, HarrietHunter.org She's a star!