Remember that TV commercial with the dog who buried his bone in the yard and then looked out the window, worrying about its safety?  In the background you hear the song "Trouble" by Ray LaMontagne. Check it out.
More than 20 percent of us struggle with worry and anxiety (according to the Anxiety and Depression Association of America). A person with an anxiety disorder spends about 300 minutes a day worrying, a condition linked with cardiac, emotional, and other health problems.
Worries tell us, "Watch out!" Sometimes, they're right on, especially when we're in danger. But, what about those that sap our energy and lead to failure, discouragement, and limitation?
I call such worries "whispered lies" because they're mostly false, telling us the pain of our past will repeat itself. We can change these lies by getting honest, claiming positive power, making healthy choices, and using growth tools.
So, our thinking is the problem, right? But, wait a minute! Our thinking helps us reach important goals: jobs, degrees, repairs, trips, and so on. We set a goal and take the steps to attain it. If we just try hard enough, we get everything we want, right?
Unfortunately, this linear approach doesn't always work: Our hearts are broken, we don't receive a hoped-for promotion, or a loved one is seriously ill. We're shocked to realize how little control we have over our spouses, bosses, friends, family, or adult children.
We become like that little white dog: We imagine we can fix our troubles by worrying about them. Or, we try to deny them by partying, working long hours, sexual preoccupation, or drugs and/or alcohol.
But these desperate strategies don't work. The worrying and negativity just multiply, and we become more miserable.
If we get honest about our dilemma, we begin to see something bigger than our fears can bring us some semblance of clarity–a source of positive power. We might call it Being, Buddha, Courage, the Divine Spark, God, Great Spirit, Light, Providence, Universal Intelligence, Wisdom, or any name that works for us.
As we choose a new life and use growth tools to attain it, we become expressions of peace, clarity, and connection.
These sound like pretty lofty goals, but as my worries fade away, I find true happiness. You can, too.
Find tools to ease your whispered lies in my other blog posts and in my new book, 50 Ways to Worry Less Now now available at Amazon.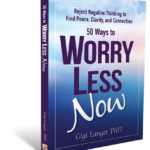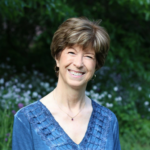 Gigi Langer, PhD is a former "queen of worry." She's also an educator, speaker, and author of 50 Ways to Worry Less Now. The book contains powerful tips to defeat negative thinking, and find inner peace, clarity, and connection.