50  WAYS to WORRY LESS NOW
Reject Negative Thinking to Find Peace, Clarity, and Connection
by Gigi Langer, PhD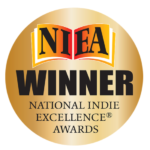 Thirty years ago, Gigi Langer was a prisoner of her worries who used alcohol, romance, and professional accomplishments to soothe her frayed nerves. After studying and applying tools from recovery pro­grams, scientific research, and a variety of philosophical and spiritual teachings, she stopped drinking and discovered how to overcome her own anxieties and stress.
Worry Less Now offers four life strategies and 50 eclectic tools to dissolve the "whispered lies" of negative self-talk. Although many books address negative thinking, very few give the reader step-by-step directions on how to defeat it. Others simply advocate a single approach.
Regardless of the situation, Worry Less Now will help you gain peace, clarity, and wisdom.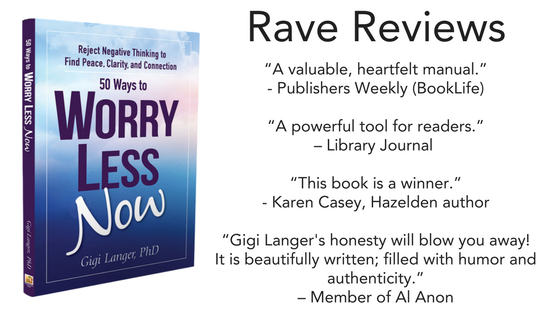 What's in the book?
Chapter 1. Four Powerful Strategies to Overcome Worry. Discover tactics to dissolve the negative beliefs underlying your worries.
Chapter 2. Getting Honest About Your Worries.  Most people won't really try something new unless they're convinced their old way isn't working. What's not working in your life?  Which whispered lies are seducing you into thinking that, if you could control everything around you, you could finally be happy?
Chapter 3. Claiming Positive Power.  You'll need a source of power to overcome your self-defeating thinking. Consider various conceptions of positive power and select ones that work for you.
Chapter 4. Choosing a New Future. Whether it's a vision of how you want to act in a specific situation or a dream you'd like to fulfill, you'll be empowered to create a goal for your new life. Then you'll commit to do the work necessary to reach that goal–or something even better.
Chapter 5. Using Growth Practices to Recover Your True Self.  See how growth occurs in layers, and how the right tools show up just in time. If you suffer from low self-worth or grew up in a dysfunctional family, you'll find several helpful ideas.
Chapter 6. Healing Your Relationships.  You'll read how I applied honesty, power, choices, and several new growth tools to overcome a terrifying challenge to my marriage.
Chapter 7. Reaping the Rewards: Peace, Clarity, and Connection. Cultivate peace of mind; achieve clarity to fulfill your dreams, and give and receive love throughout the rest of your life.
How are the reviews?
"I loved the simplicity and the host of quickly adopted suggestions. They grabbed my attention and wouldn't let go. This book is a winner." – Karen Casey, best-selling recovery author
"This book comes from an author who is personally as well as professionally familiar with her topic. Plenty of books advocate countering negative thinking; but too few actually provide step-by-step measures on how to do so. Others simply choose a singular path and follow it. The pleasure of 50 Ways to Worry Less Now lies in its examples, specific exercises, and injections of how the author used various routines to find her way out of negativity. Highly recommended for anyone who worries too much, lives too hard a life, and searches for a better way."  – D. Donovan, Senior Reviewer, Midwest Book Review
"Her honesty will blow you away! It is beautifully written; filled with humor and authenticity. A fresh, honest tutorial on growing into your true, healthy self." –Member of Al Anon
Purchase your copy